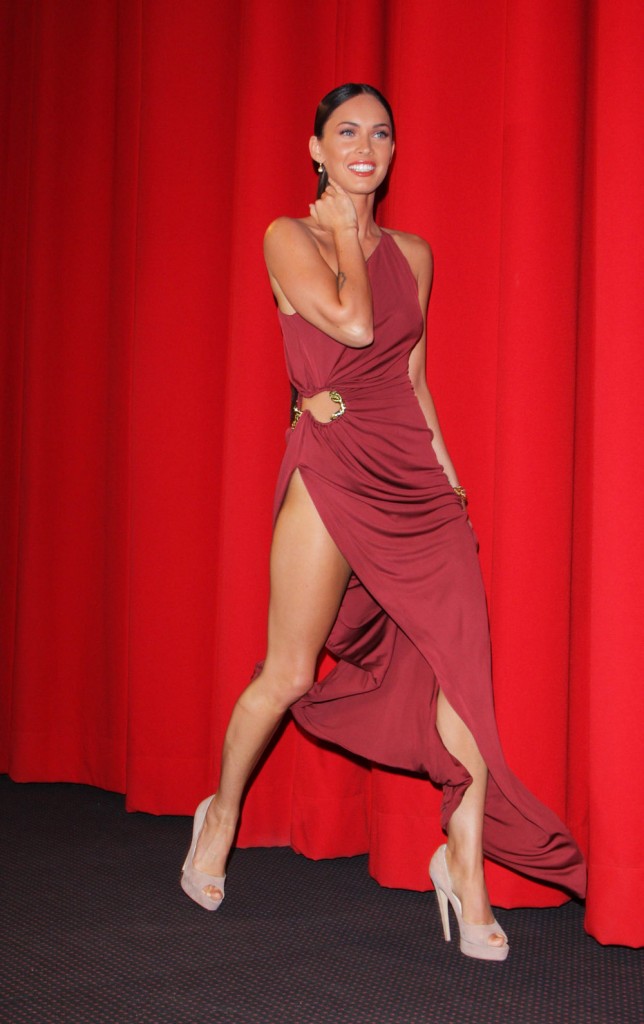 The Daily Mail has a very funny and very sad story today. The title of this masterpiece of modern journalism is "Hollywood stars say the silliest things: She may be a movie beauty, but is Megan Fox the DUMBEST star ever?" As you can imagine, someone at The Mail was as flabbergasted as we were when reading some of the ridiculous interviews Megan Fox has given over the past few months. So they decided to put together all of Megan's dumb quotes in one epically terrible article.
I have to admit, some of these quotes are new to me. Probably because Megan gives about twenty bajillion interviews a week, and she loves to talk about how beautiful, cool, edgy, gross, sexy, dark and hardcore she is, and sometimes some of her gems are lost to us. I'd like to thank The Mail for doing us this great service:
Megan Fox has amazed fans with her ignorance as she travels the world promoting her movies with red-carpet comments and magazine interviews.
She's quite happy to discuss drugs, sex and even flatulence but take this example of her discussing her 'Brian' tattoo - dedicated to on/off boyfriend Brian Austin Green. She said: 'I wouldn't regret the tattoo if we weren't together. I can always have a kid and name him Brian. There are options.'
MailOnline has trawled through two years of clangers to provide an insight into her 'wisdom'.
During a recent interview with American magazine Entertainment Weekly, Megan questioned her mental health, saying: 'I think that I'm so psychotic and so mentally ill that if I could tap into that I could do something really interesting.'
Among her more controversial comments is her call to legalise cannabis. She told British GQ: 'I hope they legalise it and when they do I'll be the first f***ing person in line to buy my pack of joints. People look at it like it's this crazy, hippy, f***ed-up thing to do. And it's not. I hope they legalise it.'
She told FHM last year: 'I really enjoy having sex, and that's offensive to some people. Women are the quickest to call other women slags, which is sad. I haven't met a lot of men who've said, "You like having sex? What a dirty whore you are!" That's because they wish their wives or girlfriends would have more sex with them.'
Megan makes no attempt to hide she is aware of her good looks, declaring: 'Well, I'm clearly not ugly.'
She also told the June issue of Elle: 'I'm just really confident sexually, and I think that sort of oozes out of my pores. It's just there. It's something I don't have to turn on.'
She told Esquire: 'I don't want to have to be like a Scarlett Johansson, who I have nothing against, but I don't want to have to go on talk shows and pull out every single SAT word I've ever learned to prove, like, "Take me seriously, I am intelligent, I can speak."'
Moving from Scarlett to Britney Spears, Megan admitted she felt sorry for the singer. She said: 'I used to sit back and think, "Please, Britney Spears has the best life ever - she has everything she could ever want!" But she has one of the worst lives. Her life is a living f***ing nightmare. I have panic attacks thinking about her life.'
In the Entertainment Weekly interview, Megan criticises her performance in the first Transformers movie - despite the fact she is supposed to be promoting the sequel. She said: 'I'm terrible in it. It's my first real movie and it's not honest and not realistic… Unless you're a seasoned veteran, working with Michael Bay is not about an acting experience.'
Discussing a possible third Transformer movie, she counters: 'I can't s**t on this movie because it did give me a career and open all these doors for me. But I don't want to blow smoke up people's a*s. People are well aware that this is not a movie about acting.'
Further disparaging her industry, Megan told GQ: 'When you think about it, we actors are kind of prostitutes. We get paid to feign attraction and love. Other people are paying to watch us kissing someone, touching someone, doing things people in a normal monogamous relationship would never do with anyone who's not their partner. It's really kind of gross.'
Two years ago, Megan offered up too much information she revealed her questionable hygiene habits. She told FHM: 'I'm horrible to live with. I don't clean. My clothes end up wherever I take them off. I forget to flush the toilet. Friends will tell me, "Megan, you totally pinched a loaf in my toilet and didn't flush."'
At the Golden Globes in January, a brutally honest Megan told a E! News reporter exactly how insecure she was sharing the red carpet with A-listers like Kate Winslet, Jennifer Lopez, Angelina Jolie and Cameron Diaz. She said: 'I am pretty sure I am a doppelganger for Alan Alda. I'm a tranny. I'm a man. I'm so painfully insecure. I'm on the verge of vomiting now. I am so horrified that I am here, and embarrassed. I'm scared.'



Hollywood Gossip,Hollywood News,Hollywood Celebrity,Hot Celebrity Gossip, Hollywood Business, Hollywood Actress, Celebrities Stars